Thanks for stopping by. Come back soon for dog training help, and exciting gun dog stories, as we create our web site.

We're a bunch of dog owners, handlers, hunters and dog trainers who want the Best Hunting Dog we can have. We looked on the internet, we talked to our buddies, we talked to the professional trainers and, for all our looking, we couldn't find one place for all the dog training help we needed.

So here we are; putting it together in one place, the gun dog and bird dog training tips you've been looking for. Our training tips are designed to help you with your "Gun dog" or your "Bird Dog" but all of our training tips provide basic dog training suggestions to train any dog.

Our Dog Training Tips are Free!!! We all want you to have rewarding times with your bird dog as you journey towards the "Finished Dog."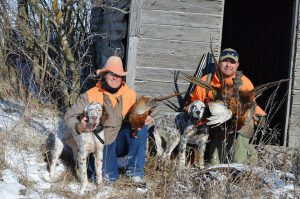 There will be pages about dog supplies, dog training, dog health, dog food, the best breeds of dogs for what field and how to dress your dog for the work he will be doing.

Dog Training is a great adventure, thanks for letting us be here with you on your road to success!
From All of us here at Camp Hunting Dog.
Contact Us: Info@camphuntingdog.com